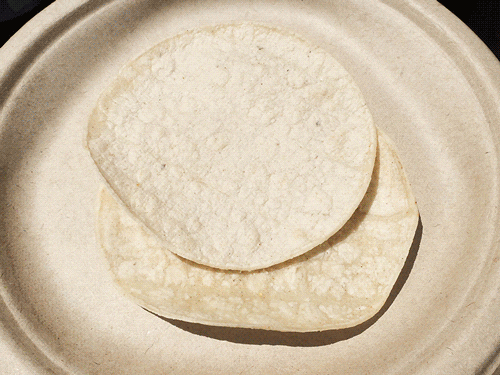 Tacos. We're obsessed with them. I've eaten them occasionally throughout my childhood but my true love for them started when I visited San Francisco, CA in 2014 with my friend and I had a taco from a straight up, Mexican taco truck.
Oh. Mah. Gahhh.

(Forgive the polka dot border, it was a phase I went through.)
I cannot truly describe how beautiful that food experience was. From then on, I couldn't get enough of a good taco. But, I mean really good. Unfortunately, when a taco is made properly, they typically taste the same. You have the tortilla with some chopped onions and maybe a bit of cilantro (and whatever meat you prefer). A classic to be sure. As good as the classic is, my taste buds need a bit of variety in the taco arena and lucky for me, I live in NYC where you can find variations on almost anything.
Taco Mahal
The taco I am most obsessed with at the moment hails from the West Village from a tiny hole-in-the-wall spot called Taco Mahal. I first learned about it in April from a viral Facebook video that caught my eye. What kept my attention was 1) how beautiful the owner/creator is, and 2) the fact that the tacos mix two out of my three favorite ethnic foods: Latino and Indian.
Danikkah is the daughter of a Puerto Rican mom and an Indian father. She grew up eating foods that mixed the two cultures and decided to create a restaurant that celebrates that uniqueness. When you're there, you can see her and her dad in the small kitchen as they do something they're truly passionate about and share it with the world. Seeing as how the space is small, the menu is a bit limited but don't let that fool you. Everything is delicious. My favorite is the chicken tikka masala on the fresh and fluffy naan bread. It is a scrumptious take on a classic dish!
Chicken Tacos
You know how most people like to go to a bar and drink after work? Well, being the foodie that I am, I didn't care about drinking so much as eating at the local bar. At the local midtown gem, Faces and Names, you can find a lot of yummy bar food to munch on. But the favorite amongst my colleagues was always the mini chicken tacos.
These bad boys are so simple but so satisfying. You get 9 tacos with chicken, shredded lettuce, and the perfect sauce drizzled on top to enhance the flavors. Pair this with the curly fries or chicken tenders and you won't be disappointed.
Baja Taco
A couple of months ago, I went to a chain restaurant called Dos Caminos and discovered a delicious new taco I kept dreaming about for days afterwards. The Baja has steak and rock shrimp, sriracha aioli, and bacon guacamole.
Literally everything about the taco called out to me. I love spice and I've never met an aioli that I didn't enjoy. I'm a major guac fan but then you put bits of bacon on it and I'm in heaven. The steak was well made and the shrimp balanced it out well. Everything about it was a hit!
So, if you're ever in the mood for a taco but need a break from the usual, check out these gems. I swear you won't be disappointed that you did.
Love,
Ms. Curvy ❤
Categories: Food
Ms. Curvy